Campione d'Italia 1979

; Albertosi, Chiodi, Morini, Bigon, Sartori, Rigamonti;
(from left to right) Collovati, Boldini, De Vecchi, coach Liedholm, Bet, Maldera, Capello, second coach Gasparini;
Carotti, Buriani, Rivera, Antonelli, Baresi, Novellino
Notable players:
Milan players - apps./goals
Aldo Maldera 30/9
Enrico Albertosi 30/0
Franco Baresi 30/0
Walter Novellino 30/4
Ruben Buriani 29/1
Walter De Vecchi 28/5
Fluvio Collovati 27/0
Alberigo Bigon 26/12
Stefano Chiodi 24/7
Roberto Antonelli 21/5
Aldo Bet 17/0
Giorgio Morini 14/1
Simone Boldini 14/1
Gianni Rivera 13/1
Fabio Capello 8/0
Giovanni Sartori 7/0
Alberto Minoia 2/1
Antonio Rigamonti 1/0
Milan season stats:



Finished 1st (44 points; second placed Perugia 41)
Milan's 10th scudetto - lo scudetto della stella
17 W/10 D/3 L
goal diff. - 46:19 (best attack in the leage, second best defense after Perugia)
biggest win - Milan-Cantanzaro 4:0; Milan-Fiorentina 4:1
other league stats:



Perugia's best ever finish - 2nd in Serie A
Capocannonieri - Bruno Giordano (Lazio)
Perugia's defense finished up conceeding only 16 goals, leaded by Antonio Ceccarini
Milan captain and legend Gianni Rivera ended his career with this scudetto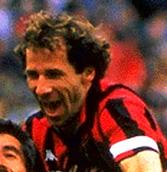 Soon to be Milan-captain Franco Baresi's second season with the Rossoneri
So, thank's to Tennie's Sacchi-Milan post we got to the idea to make more threads. Initially the Capello thread was next to be made, but I wanted to test the idea with you and so I decided to start with one that is a bit more simple.
Any additional info, questions, adds, etc. go here or you can PM me. All the talks about the former players (well except Capello and Baresi who got their own threads) and the Italian-football 70ties...please here!